You can enjoy the taste of Groningen from home with this simple yet delicious recipe for authentic Groninger nut cake. Don't skimp on the nuts, and make sure to get the perfect spice mix: you can cheat a little and pick up a spice cake mix from a local, artisanal bakery. We recommend serving up a slice of this cake with generous lashings of butter. Hungry yet? Get baking!​
Ingredients
250 grams wheat or rye flour
8 grams baking powder (1/2 packet)
100 grams brown sugar
A pinch of salt
150 ml whole milk (room temperature)
150 grams unsalted nut mix (almonds, cashews, walnuts and Brazil nuts)
Butter for greasing the loaf pan
10 grams spice cake mix (cinnamon, nutmeg, cloves, ginger and coriander)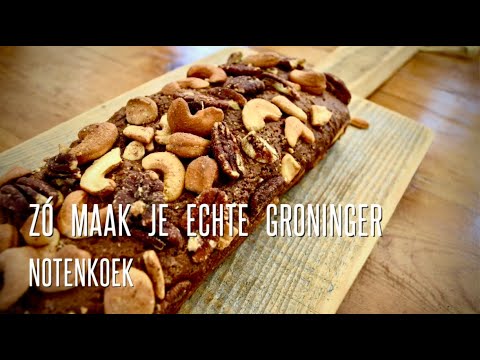 To make a real Groninger nut cake, you need the ingredients listed above. The cake in this video is made with the spice cake mix from the Joeswert mill in the scenic village of Feerwerd (we recommend making a day of it with a nice bike ride through the countryside). The recipe is essentially the same, but the mill mix already has all of the dry ingredients – wheat and rye flour, spice cake mix, sugar and baking powder – combined, which means less prep time and digging in even sooner!
Pre-heat the oven to 140 degrees Celsius. Combine the flour, spice mix, sugar, baking powder and salt (or the spice cake mix) in a bowl. Pour in the milk and mix well until it forms a sticky batter. Leave to rest for a little while.

Use butter to grease the loaf pan, then cover the bottom with about half of the nut mix. Pour in the batter, then cover the top with the remaining half of the nut mix.

Bake the cake in a pre-heated oven for 75 minutes.

Bon appetite!

Hip tip: you can make this nut cake recipe vegan by substituting water for milk and using oil instead of butter to grease the pan.